Many people across the world made a fortune when the new pokemon boom hit the world.
And you may have been wondering if it's also possible for you to jump in right now.
In this page you will get to know all the sides of Pokemon Card Investing, what is the best option and whether it is for you. If you are serious about investing in pokemon cards you should read this article very well before making any decision.
What Causes Pokemon Cards to Go Up in Value?
Each trading card game has different prices that go up and down, affecting the overall price of the cards.
Below we will go over what makes pokemon cards and products go up in value: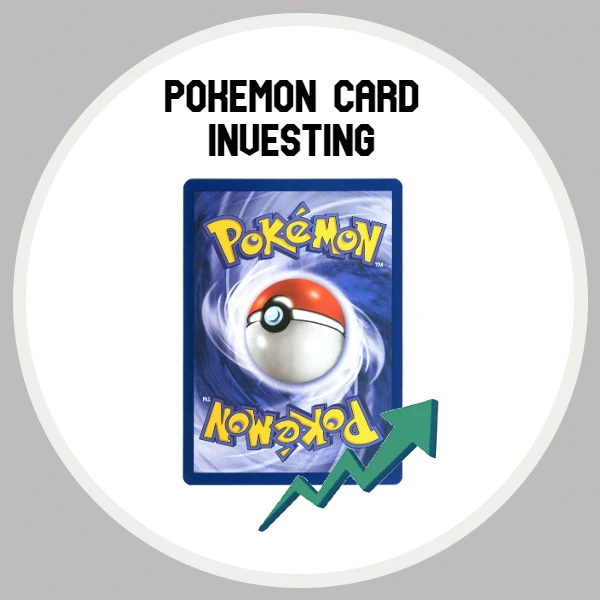 Rarity of the Card or Item and How Hard it is to Get it:
If you have a card that is easy to get, don't expect it to jump in value so fast. If you managed to get it fast and easy then many other people did so as well.
Choosing the right product or card that has rare or hard pull rates can be a great starting point for any kind of pokemon investment.
Popularity of the Pokemon:
There are over a thousand different pokemons to choose from, and not everyone is treated equally. Knowing which pokemon is popular among fans and collectors can be very important upon choosing the right investment item or card.
Picking between a good looking card or product to a normal one can be all what it takes.
Overall Market Trend or Hype:
Sometimes there are "waves", these are called trends or hype around something in the pokemon collector niche.
Maybe there is a special anime episode, movie or generally excitement around some pokemon that can drastically shift the collectable market up.
If you can learn to read the market and the collectable space, you can use it to "ride the wave" and get the high exit price point.
How Playable the Actual Card or the Product:
Each pokemon card out there is a playable piece that is used in tournaments around the world. In every pokemon set there are many cards that are used to play with, but selected few are treated better, just because they are highly playable in tournaments.
Getting familiarised with the pokemon metagame, can help you pick the cards that have the best profit value and use it to your advantage.
Remember that Information is crucial to making decisions better over time.
Learning and researching pokemon investment can teach you a lot of important key factors that will help you get higher profit.
Sealed Products Vs Single Cards
Pokemon Single cards and products are no different than any other collectible. If you have a good looking card with great centering and condition. Or an item in your possession that is very well preserved. You get a great chance to get the most out of it when selling.
The big question out there is whether you should keep sealed products or just get single cards for your pokemon investment.
Note About Sealed Pokemon Products:
When deciding to open sealed products with release dates over 2 years. You instantly lose between 80-90% of the actual box value! That is of course, with normal pull rates.
There are some cases where you hit the jackpot and pull some amazing and rare card but that is a matter of luck, and it is considered gambling.
Let's Overview Pokemon Sealed Product Investing Pros and Cons:
Pros of sealed pokemon items:
Steady gain over a long period of time
Easier to sell with bigger market options
The items is pretty much in mint condition without any extra risk
Cons of sealed pokemon items:
Takes a lot of living space
Harder to ship due to size or weight
There is the temptation of opening it over time
Single card market is somewhat different than the sealed one. Each card is treated as its own and sometimes as part of a collection. Getting into pokemon single card investment takes much more effort and understanding in the overall pokemon TCG market.
Let's Go Over the Pros and Cons of Pokemon Single Card Investment:
Pros of single Pokemon Card Investing:
Can have huge and profitable gains that move with popularity and trends
Takes very little space
Very Easy to ship and prepare to ship
Cons of single Pokemon Card Investing:
This is much more involved investment, you have to stay in check all the time
Harder to find the right exit point and sell
There is smaller market option, that is up to the card and the set its from
You have to pay extra attention to the card protection and condition
Overall pokemon single card market is way more risky than sealed!
If you are a new pokemon investor, i would highly recommend you to pick good pokemon deals online, while preparing a secure way of keeping them protected for a couple of years.
If you live and breathe pokemon, then single card pickups can be a good option for you if you are planning to do this for a long time as a side hustle.
Either way you choose, the most important factor is time, and even more time.
Patience is the most important currency while trading in pokemon cards and items. So be prepared!
Raw Ungraded Cards Vs Graded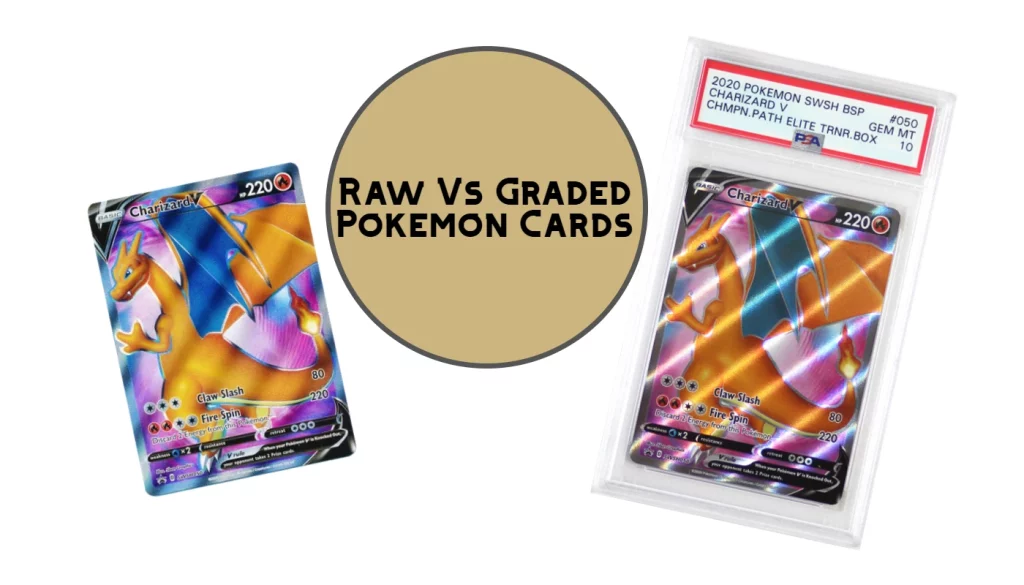 Like many collectable toys and such, keeping the item in mint condition is a key factor to maximising the potential of the item or card.
Each trading card game has different prices that go up and down, affecting the overall price of the cards on a daily basis. But one thing is for sure, condition is super important for card collectors.
Raw pokemon cards are ungraded versions that you have in your collection. The price of ungraded cards is usually the standard market price.
You can check for pokemon and other TCG prices in the popular TCGPlayer site, or even on the ebay store while searching for the last sold items of the particular card in question.
Graded cards are ranked between 1-10 score, based on the card overall quality in several factors:
Surface of the card itself, without scratches and such
Centering of the card borders from all sides
Edges around the card, included check for whitening and other damages
Most high-end pokemon collectors are looking for the best of the best, so holding onto a perfectly graded card is a gem that can be sold for even x10 times the price of an ungraded card.
Getting cards graded has a sole purpose of raising the card value while providing a stamp of authenticity for the card condition. This is some kind of extra level or layer card collectors can go to, and the risk lies if the card is sent to grading and get's a low score that damages the initial price point.
Raw ungraded pokemon cards are definitely easier to sell to other card collectors. So I would recommend to stay away from card grading companies and focus on raw cards instead.
Vintage Vs Modern Pokemon Card Investment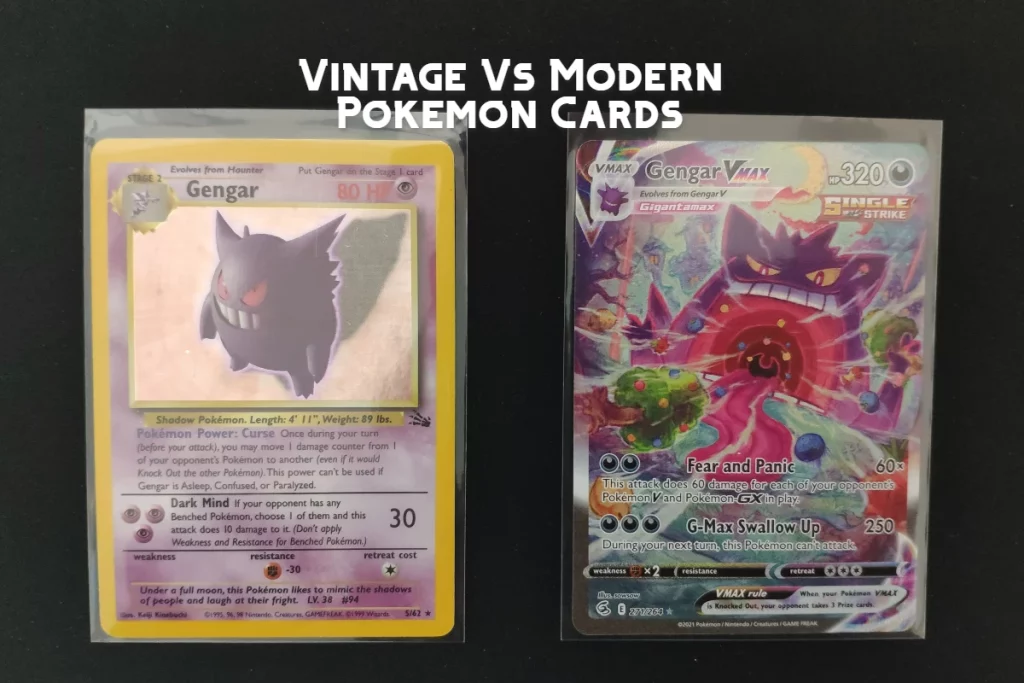 The question of the ages, Which one is better: vintage or modern pokemon cards.
When choosing to invest in pokemon you should know what are the main differences between them, and what you can expect from each method.
To start with vintage pokemon card collecting you have 2 options available:
Buy old pokemon collections or trade with collectors
Older or vintage pokemon cards are basically 20+ years old. There are no more printings of them so their value and scarcity driving the market price up from year to year.
That said, vintage cards are mainly collected by older pokemon fans who used to grow on the older versions when pokemon started. So it's an older collectible market for pokemon.
New and modern pokemon cards are always improving. They are definitely better looking compared to older cards, and the amount of details and attention given to them is amazing.
The modern pokemon cards as investment can be sometimes crazy. The market shifts dramatically and they can jump or dip in value every week or so.
The good thing about modern cards is that they are cheap and available to get right now, so checking for new pokemon deals is key to buying cheap and holding to sell later for way more.
Protecting Your Pokemon Card Investing
If you have a new pokemon investment or even a vintage childhood card collection i would 100% recommend to protect and preserve it as much as you can!
There are many Pokemon TCG Accessories that can help you preserve your investment and collection in the best way possible:
And many more options.
People who protected and saved their childhood collection from 25+ years ago are in great condition. Are the ones who enjoyed the new pokemon price jumps and even sponsored parts of their homes!
Collection Tip
If the card is shiny, protect it in a sleeve and binder. And if the card is textured, sleeve it and put it inside a toploader.
Should You Invest in Pokemon Cards?
Well, Yes and No.
Pokemon at its core is a card game. Using a card collecting hobby as an investment can definitely be profitable as long as the brand and hobby stays relevant.
Pokemon cards are meant to be used in play so understanding the TCG meta and playability can super help you get better investments for the long run.
Unlike other investment options, choosing a card game hobby as investment means you will have to be involved in the card price market prices and also learn how to properly sell them to other collectors and fans when the time comes.
Investing in pokemon cards can be a great idea if you are already passionate about the pokemon world. And you have the time and patience to make it into profit.
IMPORTANT NOTICE!
I am a long time card collector that can give you my insights and opinions, plain and simple.
But I am not a financial advisor or even pretending to be one.
Like any type of investment across the world, there can be ups and downs, So make your choices smartly and do your research before any kind of investment.