Hello and welcome to the world of pokemon cards collecting!
In this page we will go over the easiest and cheapest ways to start collecting pokemon cards and also the optimal ways to finish a pokemon cards collection.
Pokemon TCG History
The pokemon trading card game or also known as the pokemon TCG is a well established 25+ years old card game by the nintendo company.
In the early years of pokemon cards nintendo didn't have the experience of creating a massive TCG game so they approached wizards of the coast for partnership to manufacture the pokemon card sets.
Wizards of the Coast had a massive success with Magic the Gathering card game so Nintendo was in great hands with the pokemon brand.
The pokemon cards became a massive hit for players, collectors and fans, generating millions of revenue from purchases around the world.
The Early Pokemon Cards Sets
In 2003 nintendo took over the pokemon card manufacturing from wizards of the coast and started to do it themselves. This move splited the value of pokemon cards and generated a new pokemon cards collecting market – vintage pokemon cards.
Almost the entire early sets manufactured by wizards of the coast became much more valuable due to the fact they will never be reprinted again. This started the pokemon collecting scene to be what it is today, when some pokemon cards are selling for hundreds or even thousands of dollars.
So Where To Start Collecting Pokemon Cards?
Well now is better than ever, there is a huge pokemon cards market of playing and trading, each year there are several new sets to choose from so the prices stay low for the newest versions.
You can approach pokemon cards collecting in several ways:
Collect random pokemon cards in bulks (collect what you get)
Collect cool or cute pokemon cards (collect what you love)
Collect one of every pokemon card kind (gotta catch them all)
Collect What You Get
The first option is the more common in the public, just pick what you can that is affordable and slowly get your collection bigger. This method is great for new players with low budget , where you can easily get the newest pokemon sets in great deals.
Collect WhatYou Love
The second option is to collect cards that you enjoy having in your possession, this approach is relatively common, many people pick their favorite pokemon and start owning and getting every kind of card for that specific pokemon, sometimes even expanding to collectable figurines or plushies.
The method is great and enjoyable. Just be prepared that some iconic pokemons have very expensive cards to get , so make sure you prepare for that ahead.
Collect Everything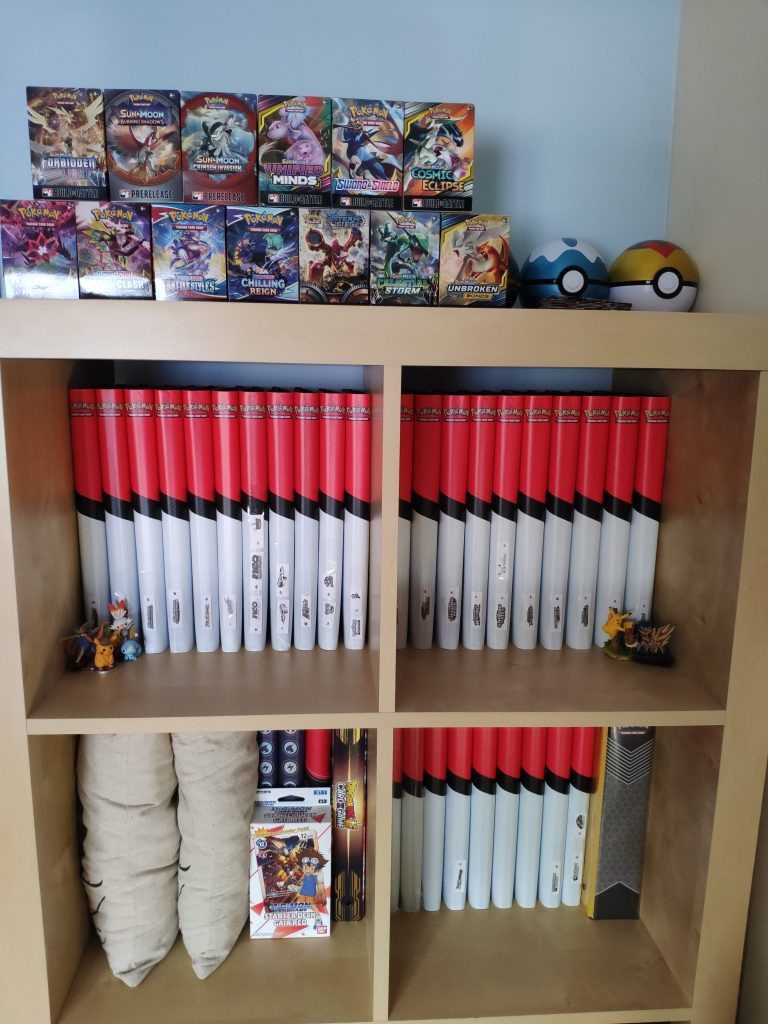 The final approach is by far the most time consuming and expensive there is, you will have to own a copy of every card in a set to finish it, and in every single set there is always at least 1 expansive card (sometimes even more than 30 in one set).
To help you get the best of your money and easily and cheaply finish your pokemon set collection i will explain in detail how to do so below.
The Steps To Finish Pokemon Collection Set Cheaply
Start by getting some pokemon card bulks or even second hand bulks of pokemon cards.
Once you have the bulks of cards you can start sorting them into sets by the icons on the cards.
From there make a list of the missing cards and start hunting for them slowly. You can use websites that sell single pokemon cards to get there but the best way is to trade or buy cards from other pokemon collectors.
By now you will probably own the majority of the pokemon set (common, uncommons, rares, holos) and you can start aiming for the high value rarity cards (ultra rares, full arts, rainbow cards, golden cards, and alternative arts).
This phase can take you a lot of time and money to accomplish. Some pokemon cards stay in really high dollar value for years and there is no easy path to doing it.
Wait for an opportunity and get the missing cards while you can.
Other Forms Of Pokemon Cards Collecting
There are several extra ways to collect pokemon cards that are more niche than the others mentioned above.
Collecting sealed pokemon products and collecting graded pokemon cards.
These two are way expansive and more high collector status symbols, the sealed pokemon products way is simply to get the product and never open it!
By doing so you will let the products gain more value with time and you can easily resale it with profit in a year or more.
The graded pokemon cards collection is a whole new game when you try and grade each pokemon card with some grading company such as BGS,PSA and such to gain a score of 10 or close to it.
Pokemon cards that are graded are way more expensive, that also depends on the grading score value, you can easily multiply the profit and value of the cards and turn it into a deluxe collection.
Collecting Pokemon Cards Closing Comments
There are many ways to collect pokemon cards, some ways are expansive and some are cheaper, the main idea of collecting pokemon cards is to enjoy the hobby and the community surrounding the pokemon brand.
I would recommend you to stick with what you love to collect that makes you enjoy pokemon.
The cards can be protected for a long time and gain value as time goes by, it would be wise to protect the cards and products with some pokemon sleeve protection.
If you are looking to start the pokemon cards collecting hobby i can easily recommend trying the waters with one specific product that is fun and affordable for every fan, a pokemon ETB (elite trainer box), the retail price goes between 40-50$ and the value inside is amazing with packs and other important items such as card sleeves and game rules.
You can use the links below to get some pokemon deals for buying ETB and card sleeves.