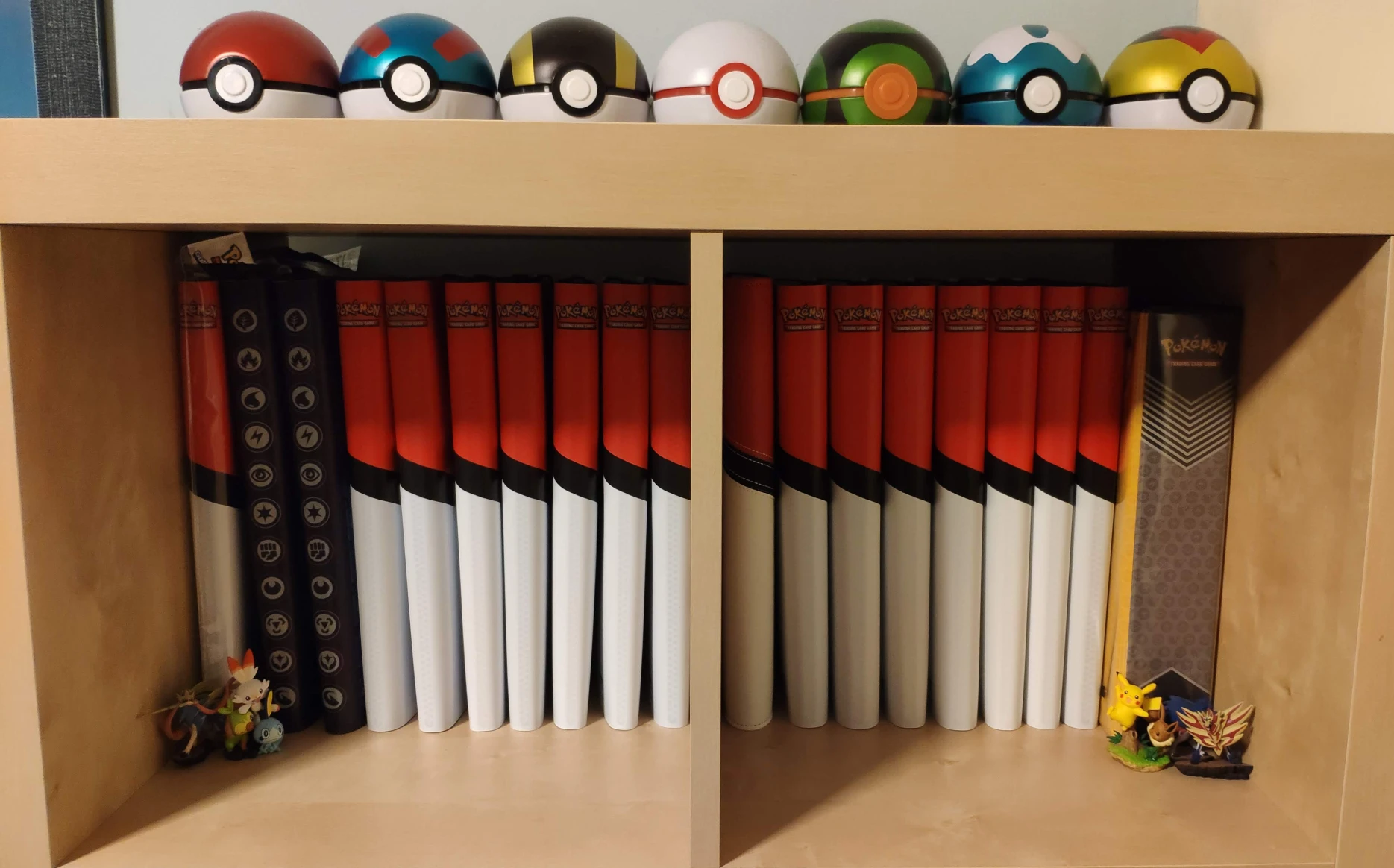 If you are looking for storage solutions for your pokemon trading card game this Pokemon Ultra pro 9 pocket pokeball binder review is just for you.
The ultra pro pokemon binder has black back cover for the pages with clear transparent pocket spaces to store cards inside.
The red pokeball design is printed all over the binder which makes him perfect for pokemon card collecting.
What to Expect from the Product
You will get 1 binder with a cool pokeball design and the pokemon trading card game logo on the side.
The binder can hold up to 360 cards
It has 9 pocket pages that are dual-sided, which means you will get 20 pages in total that can store 9 cards from each direction.
Cards are loaded from the sides which makes them safer from falling and sliding off the pockets.
The binder is PVC acid-free material and sturdy enough for backpack trips and events.
Is it Worth Getting?
For new pokemon and veteran fans this binder is a great starting point for displaying and protecting the collactable cards.
The design is iconic and sturdy for a long time, and currently is one of the best binders you can get for your cards protection and desplying.
Estimated MSRP Price for the Binder
On the ultra pro site the official pricing is $24.99 per 1 pokemon 9-pocket pro binder.
On some occasions you may find the binder going for a sale, lowering its price closer to $20 per item.
The pokemon ultrapro binder comes in many shapes and designs that share the same aspects as the red pokeball design binder, and their prices should be the same, shifting a bit depending on the popularity and the stock availability.
Long Time Usage Update
Over a long period of usage (1 year or more) I noticed the ultra pro binder rubber band started to pressure the sides of the binder and by doing so flexing the plastic cover a bit inside.
This hasn't damaged the pokemon cards by any means, but it shows the limits of the product.
Other Pokemon Binder Options
If you want to get a more exclusive binder quality you have several options. Most of them will require a bit more money. but some other brands like the Vault X Premium Zip Binder can actually cost you the same MSRP price with better quality. That depends on the popularity of the brand and how they decide to market themselves.
UltraPro is very popular so they can afford to take a bit more money compared to other binder options. Just remember to do your reaserch before and get the binder option you actually need for your collection.
Ultra pro 9-pocket Final Thought
Overall the ultra pro 9 pocket binder is a solid pick for anyone looking for a cheap and reliable storage solution for cards.
it is perfectly compatible with many card collecting games: pokemon, yugioh, magic the gathering, dragon ball super, digimon card game and more.
The ultra pro binder is a perfect fit for any ultra pro soft sleeves, and together they will make sure your cards are protected for a long time.
If you want to get some pokemon ultra pro 9-pocket binders or ultra pro sleeves you can head down to the links and check the amazon deals for the products.
Hope you enjoyed the review and hopefully it was helpful for you to decide whether to buy it yourselves.