10% Off Vault X Products, Use Code:
POKEMONDEAL
When it comes to Card Protection Vault X is known for their quality and perfection. The Vault X Premium Exo-Tec Ring Binder or Vault X ring binders are some of the top options when you are looking to preserve and display your card collection.
Let's go over what makes this Card ring binder one of the best options out there, and should you get it for yourself.
Information and Sizes
First thing first, there are 2 options for the vault x ring binders, big and small versions, each with their own sizing and capacities so let's go over them below:
Large Ring BInder (Big Premium Exo-Tec Ring Binder):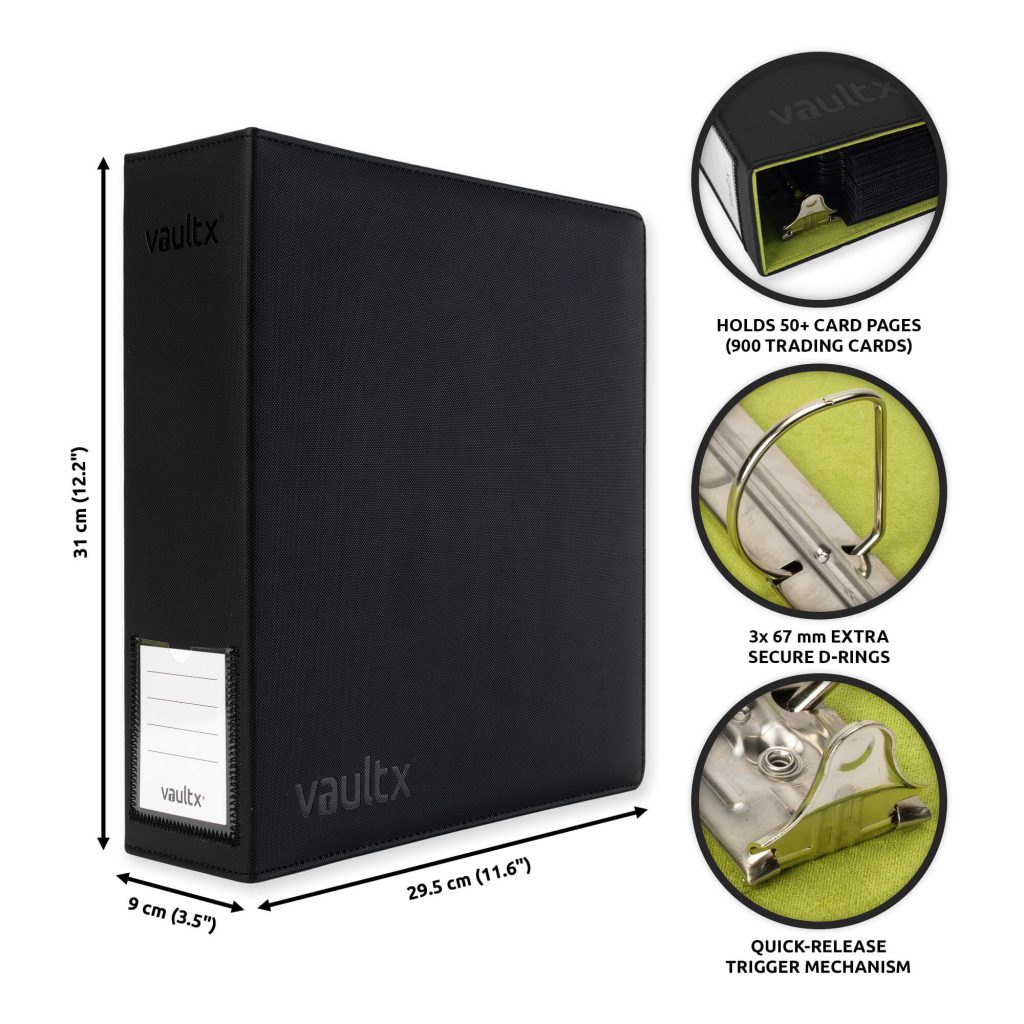 | | |
| --- | --- |
| Height | 310mm / 31cm |
| Depth | 90mm / 9cm |
| Width | 295mm / 29.5cm |
| Capacity of Pages | 50+ Pages |
| Capacity of Cards | 900+ Cards |
Slim Ring BInder (Small Premium Exo-Tec Ring Binder):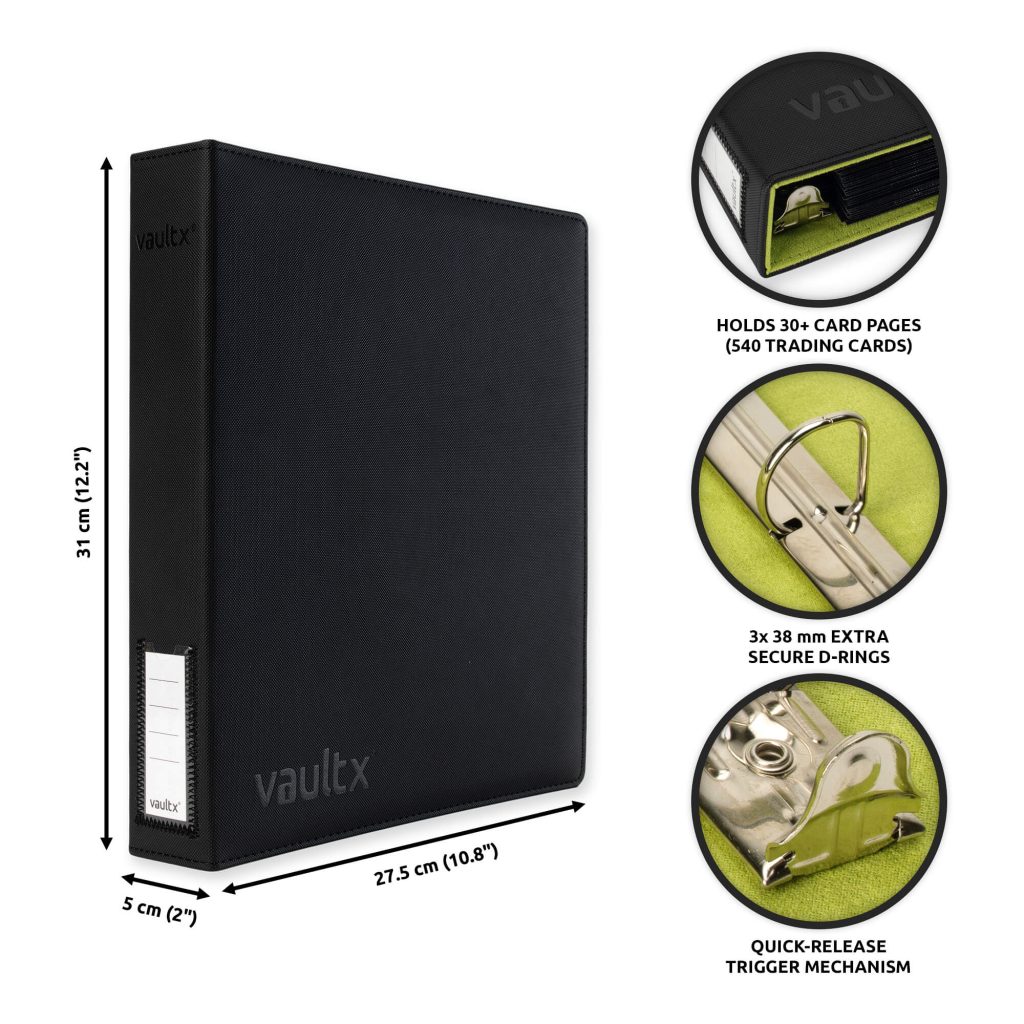 | | |
| --- | --- |
| Height | 310mm / 31cm |
| Depth | 50mm / 5cm |
| Width | 275mm / 27.5cm |
| Capacity of Pages | 30+ Pages |
| Capacity of Cards | 540+ Cards |
Vaultx Ring Binder Quality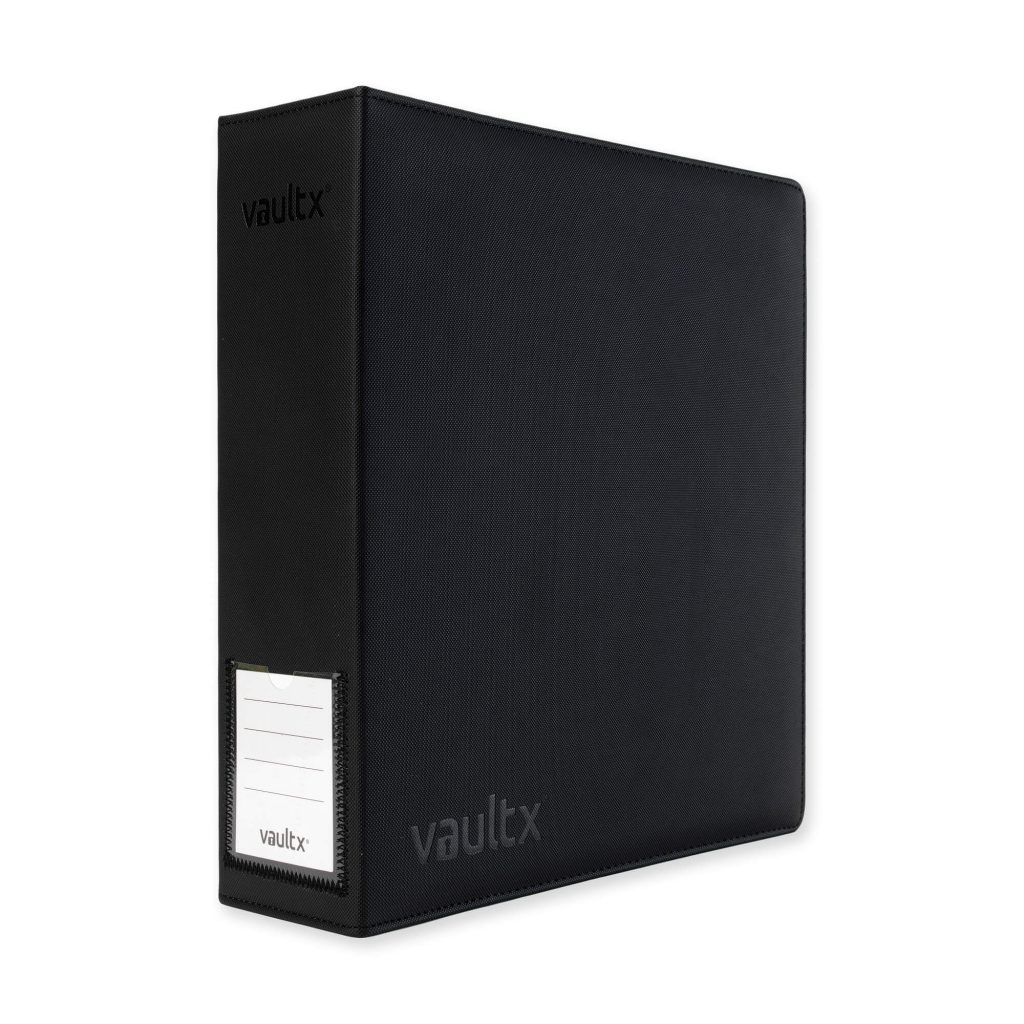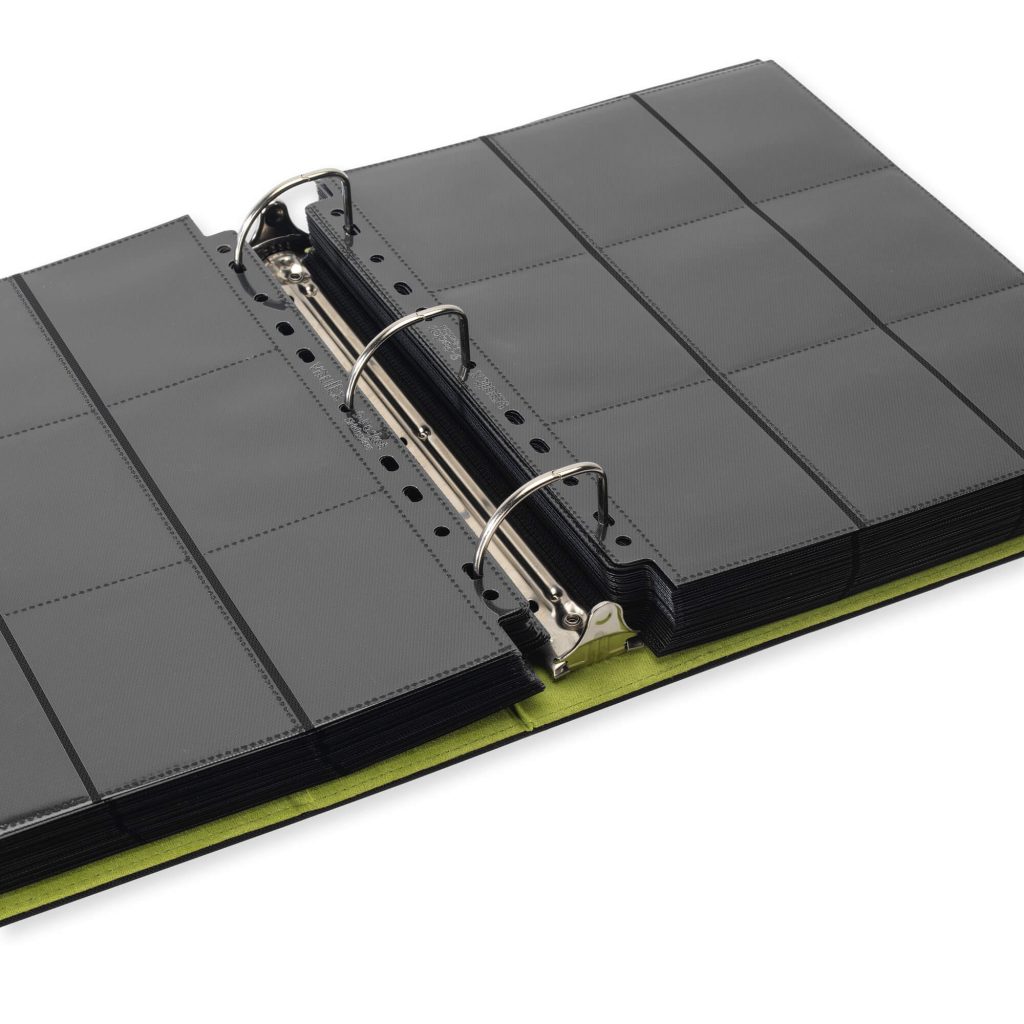 Both the small and big versions are made with great quality materials, the outer area is rigid and sturdy to protect the cards and pages.
The inside of the Vault X ring binder is padded with some kind of leather material that gives it a quality feeling.
When it comes to storage and functionality ring binders are the most flexible option to collect cards, you can move pages around from one binder to the next and keep hundreds of cards stored with great care.
The binder also works perfectly with other Side loading pages like ultrapro. The black clean design makes it easy to store any kind of trading card game inside with the option to label them from the outside.
How is it Compared to Other Ring Binders?
The ring binder marks all the right boxes, quality, functionality, multi usage, and even labelling options. The only downside to this binder I could find after months of usage is simply a bit too many embedded logos of vault x.
Other ring binders out there do not have the same quality or care for small details as the Vault X ones. Even if they are looking good, or feeling quality they simply didn't go all the way when it comes to card protection.
Aside for ring binders, there are other options such as zip binders that can be suitable for card collectors.
Pros:
Great premium quality
Works with other card binder pages
Sturdy spine and labelling options
Clean design makes it multi functional for many TCG's
Cons:
Vault x logos are embedded on all sides
My Personal Take on It
I ordered and checked several ring binder options before finding the Vault X ring binder. Once I had the chance to test it for myself, my card collection got a new standard!
In fact I loved it so much that I plan on switching all my existing and future binders to the Vault X ones.
The vault x products have many more options to offer card collectors. I covered them in The Ultimate Vault X Deck Boxes Guide. So feel free to check it out as well.
Summary and Conclusion
Vault X Exo-Tec Ring Binder is by far the best option to store card games. The quality and functionality of the ring binder is above all other competitors out there, and it will keep your trading card games mint and protected for decades.
Buy Vault X Ring Binders With Discount Code

If you are planning to Buy Vault X Ring Binders or any Vault X product you can save money by using a discount code that gives you 10% Off! Use the Code Below upon Amazon Checkout (US) or even the official Vault X website (UK):
10% Off Vault X Products, Use Code:
POKEMONDEAL