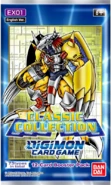 EX-01 Classic Collection is the 1st Digimon Card Game Special Set to be relesed outside of the main Digimon sets, The Classic Collection Set released in both the Japanese and English formats just the same.
The previous main digimon set before the classic collection is the BT-06 Double Diamond.
This Special EX1 digimon set is actually an art reprints of some of the original digimon game released back in the early 2000's.
The EX-01 Classic Collection booster packs and boxes Includes 73 cards in total to collect:
26 Commons
20 Uncommon
18 Rares
8 Super Rares
1 Secret Rare
30 Alternative Arts
1 Box contains 12 Booster Packs.
1 Booster Pack contains 12 cards.
1 English Booster Box comes with 1 Alternative Art Box Topper.
For some older collectors this set is considered nostalgic and very fun to collect.
If you are looking to buy Digimon Card Game products you can use the link below:
Digimon EX1 Full Card List
| Card | Level | Color | Type | Rarity |
| --- | --- | --- | --- | --- |
| Agumon (EX1-001) | 3 | Red | Digimon | Uncommon |
| Agumon (EX1-001) | 3 | Red | Digimon | Alternative Art |
| Biyomon (EX1-002) | 3 | Red | Digimon | Common |
| Birdamon (EX1-003) | 3 | Red | Digimon | Uncommon |
| Greymon (EX1-004) | 4 | Red | Digimon | Common |
| Greymon (EX1-004) | 4 | Red | Digimon | Alternative Art |
| Tyrannomon (EX1-005) | 4 | Red | Digimon | Rare |
| Garudamon (EX1-006) | 5 | Red | Digimon | Common |
| Garudamon (EX1-006) | 5 | Red | Digimon | Alternative Art |
| Megadramon (EX1-007) | 5 | Red | Digimon | Common |
| MetalGreymon (EX1-008) | 5 | Red | Digimon | Rare |
| MetalGreymon (EX1-008) | 5 | Red | Digimon | Alternative Art |
| WarGreymon (EX1-009) | 6 | Red | Digimon | Super Rare |
| Phoenixmon (EX1-010) | 6 | Red | Digimon | Uncommon |
| Gabumon (EX1-011) | 3 | Blue | Digimon | Uncommon |
| Gabumon (EX1-011) | 3 | Blue | Digimon | Alternative Art |
| Gomamon (EX1-012) | 3 | Blue | Digimon | Common |
| Gomamon (EX1-012) | 3 | Blue | Digimon | Alternative Art |
| Veemon (EX1-013) | 3 | Blue | Digimon | Rare |
| ExVeemon (EX1-014) | 4 | Blue | Digimon | Common |
| Garurumon (EX1-015) | 4 | Blue | Digimon | Uncommon |
| Garurumon (EX1-015) | 4 | Blue | Digimon | Alternative Art |
| Ikkakumon (EX1-016) | 4 | Blue | Digimon | Common |
| WereGarurumon (EX1-017) | 5 | Blue | Digimon | Common |
| Zudomon (EX1-018) | 5 | Blue | Digimon | Common |
| Paildramon (EX1-019) | 5 | Blue | Digimon | Rare |
| Plesiomon (EX1-020) | 6 | Blue | Digimon | Uncommon |
| MetalGarurumon (EX1-021) | 6 | Blue | Digimon | Super Rare |
| Imperialdramon Dragon Mode (EX1-022) | 6 | Blue | Digimon | Super Rare |
| Elecmon (EX1-023) | 3 | Yellow | Digimon | Common |
| Patamon (EX1-024) | 3 | Yellow | Digimon | Uncommon |
| Patamon (EX1-024) | 3 | Yellow | Digimon | Alternative Art |
| Salamon (EX1-025) | 3 | Yellow | Digimon | Common |
| Gatomon (EX1-026) | 4 | Yellow | Digimon | Uncommon |
| Gatomon (EX1-026) | 4 | Yellow | Digimon | Alternative Art |
| Leomon (EX1-027) | 4 | Yellow | Digimon | Rare |
| Angemon (EX1-028) | 4 | Yellow | Digimon | Common |
| MagnaAngemon (EX1-029) | 5 | Yellow | Digimon | Super Rare |
| Angewomon (EX1-030) | 5 | Yellow | Digimon | Super Rare |
| Seraphimon (EX1-031) | 6 | Yellow | Digimon | Rare |
| Magnadramon (EX1-032) | 6 | Yellow | Digimon | Uncommon |
| Tentomon (EX1-033) | 3 | Green | Digimon | Common |
| Palmon (EX1-034) | 3 | Green | Digimon | Common |
| Kabuterimon (EX1-035) | 4 | Green | Digimon | Uncommon |
| Togemon (EX1-036) | 4 | Green | Digimon | Common |
| Kuwagamon (EX1-037) | 4 | Green | Digimon | Rare |
| Kuwagamon (EX1-037) | 4 | Green | Digimon | Alternative Art |
| Stingmon (EX1-038) | 4 | Green | Digimon | Common |
| Lillymon (EX1-039) | 5 | Green | Digimon | Uncommon |
| MegaKabuterimon (EX1-040) | 5 | Green | Digimon | Rare |
| DinoBeemon (EX1-041) | 5 | Green | Digimon | Uncommon |
| Rosemon (EX1-042) | 6 | Green | Digimon | Uncommon |
| HerculesKabuterimon (EX1-043) | 6 | Green | Digimon | Super Rare |
| Keramon (EX1-044) | 3 | Black | Digimon | Common |
| Hagurumon (EX1-045) | 3 | Black | Digimon | Common |
| Kurisarimon (EX1-046) | 4 | Black | Digimon | Common |
| Guardromon (EX1-047) | 4 | Black | Digimon | Common |
| Andromon (EX1-048) | 5 | Black | Digimon | Common |
| MetalTyrannomon (EX1-049) | 5 | Black | Digimon | Common |
| MetalMamemon (EX1-050) | 5 | Black | Digimon | Common |
| Infermon (EX1-051) | 5 | Black | Digimon | Rare |
| Etemon (EX1-052) | 5 | Black | Digimon | Uncommon |
| MetalEtemon (EX1-053) | 6 | Black | Digimon | Uncommon |
| Boltmon (EX1-054) | 6 | Black | Digimon | Uncommon |
| Tapirmon (EX1-055) | 3 | Purple | Digimon | Common |
| DemiDevimon (EX1-056) | 3 | Purple | Digimon | Common |
| Wizardmon (EX1-057) | 4 | Purple | Digimon | Common |
| Devimon (EX1-058) | 4 | Purple | Digimon | Common |
| Ogremon (EX1-059) | 4 | Purple | Digimon | Rare |
| Ogremon (EX1-059) | 4 | Purple | Digimon | Alternative Art |
| LadyDevimon (EX1-060) | 5 | Purple | Digimon | Uncommon |
| Myotismon (EX1-061) | 5 | Purple | Digimon | Rare |
| SkullGreymon (EX1-062) | 5 | Purple | Digimon | Rare |
| VenomMyotismon (EX1-063) | 6 | Purple | Digimon | Super Rare |
| Piedmon (EX1-064) | 6 | Purple | Digimon | Uncommon |
| Diaboromon (EX1-065) | 6 | White | Digimon | Super Rare |
| Analog Youth (EX1-066) | – | White | Tamer | Rare |
| Baptism by Fire! (EX1-067) | – | Red | Option | Rare |
| Ice Wall! (EX1-068) | – | Blue | Option | Rare |
| Ultimate Connection! (EX1-069) | – | Black | Option | Rare |
| Fight for Your Pride! (EX1-070) | – | Purple | Option | Rare |
| Win Rate: 60%! (EX1-071) | – | White | Option | Rare |
| Emergency Program Shutdown! (EX1-072) | – | White | Option | Rare |
| Machinedramon (EX1-073) | 6 | Black | Digimon | Secret Rare |
Digimon EX-01 English Exclusive Box Topper
| Card | Level | Color | Type | Rarity |
| --- | --- | --- | --- | --- |
| WarGreymon (BT2-065) | 6 | Black | Digimon | Alternative Art |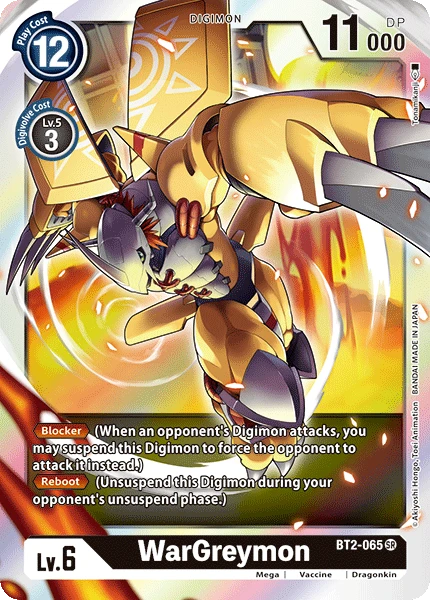 Get Your own Digimon Cards, Booster Boxes and Starter Decks in the link below: