The sword and shield era had 3 unique pokemon promo cards, all of which have really cool stories behind them, Special Delivery Charizard, Special Delivery Pikachu and Special Delivery Bidoof.
The 3 special delivery pokemon cards are some of the most desirable modern black promo star promos you can get. Each showcasing a unique fan favourite pokemon.
So let's check the story behind each and every one of them + how you can get them these days.
Special Delivery Charizard Promo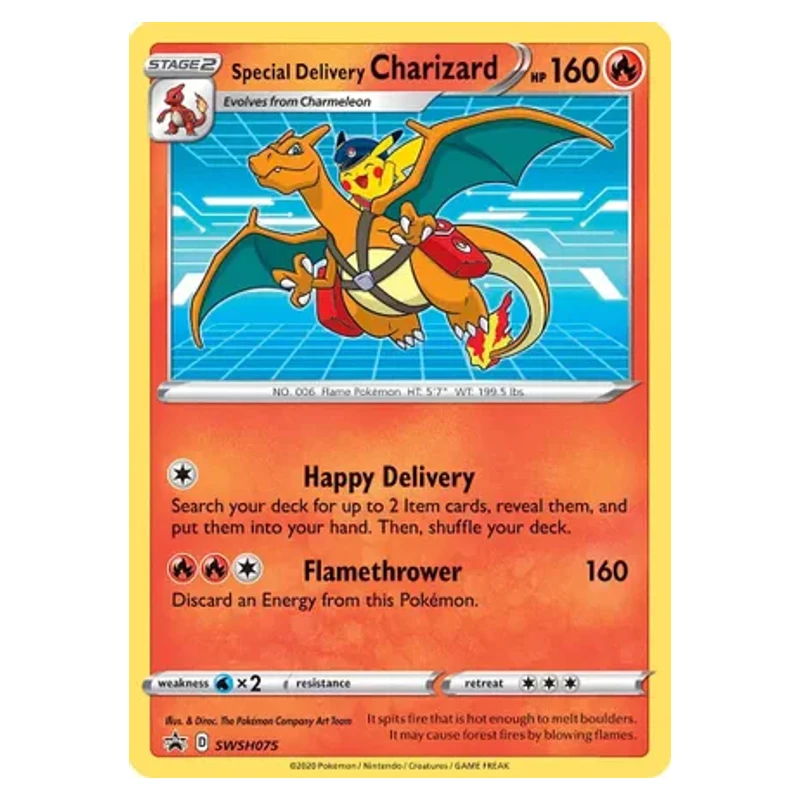 Card Code Number: SWSH075
Story Behind The Card
This card was released as a SWSH Black Star Promo to celebrate the launch of the official Pokemon Center online store in the United Kingdom (UK Pokemon center pop ups).
People who wished to receive a copy submited their details on a registration website, few selected applicants received a one-time use code by email that could be redeemed with a purchase on region-specific Pokémon Center online stores.
In case you won that lottery, you would get a notification with code up to 12 weeks of submittion, and to claim the card you would have to spend over 20$ to get it for free with your order.
This specific card was revealed as an image a year or so before actual release by mistake (inside a pokemon tcg menual), due to pokemon hype these year, the card was deleyed in order to sort quantity and delivery issues. out of all the pokemon delivery cards the charizard is actually the easiest to get in terms of rarity.
Special Delivery Pikachu Promo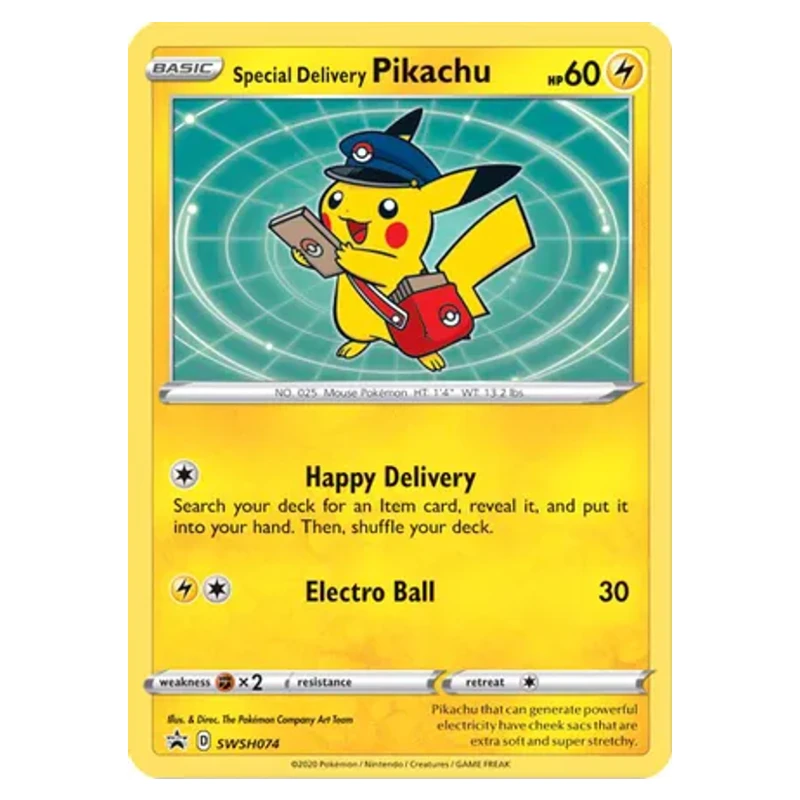 Card Code Number: SWSH074
Story Behind The Card
This card was released as one of the SWSH Black Star Promos to celebrate the Pokémon Center site beginning operation in Canada. In order to obtain this card, customers had to spend $20 or more on the canadian pokemon site, and a single copy of that card would be added to they delivery package.
The card had a very limited print and once all cards have been delivered, there was no other way to get them.
The pikachu delivery card was not so easily to get unlike the charizard one, there were less codes delivered to people, and overall it was released right during the pokemon 2020 and 2021 hype.
Special Delivery Bidoof Promo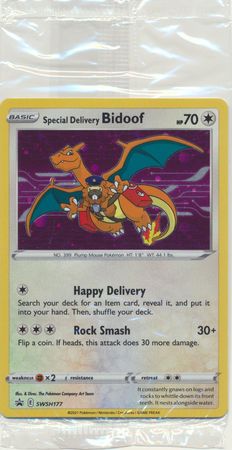 Card Code Number: SWSH177
Story Behind The Card
Biddof on charizard promo was released as a SWSH Black Star to celebrate Bidoof Day. US, Canada and UK pokemon fans who subscribed to the Pokemon Center newsletter received email if they were interested in receiving this promo card. Whoever choose to say yes got a code to claim in any of the official pokemon stores and spending over 20$ would get you a free copy of special delivery bidoof.
All codes expired at the end of 2021. There were many unused codes around the world so that makes special delivery bidoof the most rare promo out of the 3.
After the release of the third special delivery card, there were many pokemon fans around the world who got pretty mad how the pokemon company choose to make them almost unobtainable to most collectors.
How to Get the Special Delivery Cards?
The only way to get them these days are by buying from people who have it with platforms such as Amazon, Ebay or Tcgplayer. Other then that it's very rare to find people who are trading them, due to their high collectability and value.
What Makes the Special Delivery Cards so Valuable
Rarity is a big part of the value in the special delivery cards, in order to get a chance to buy one of them you would had to enter some sort of randomised lottery system to get the option for a single copy. These days there are no more lottery buying options for them on pokemon websites, and whoever got their hands on the cards will cherish them for long time.
These cards were easily missable to many collectors and pokemon card fans, those who managed to get them were very pleased and the rest were left with not many options to get them. As a card collector myself i hope the pokemon trading card game company will learn to make everything a bit more accessible and fair to evryone across the globe.
To sum it up, Many promo cards release every year and generation, but only a few of them have a story and history like that, the special delivery promo cards are definitely marking the spot, both for collectors and for fans of cool looking iconic cards.