What is Pokemon Futsal Promos
The pokemon Futsal card set collection is a mini card exclusive to england, in order to get these cards initially you had to be participating in special local football tournaments and events to win the pokemon cards as rewards.
The Futsal promotional pokemon cards are a collaboration between the Football Association and nintendo.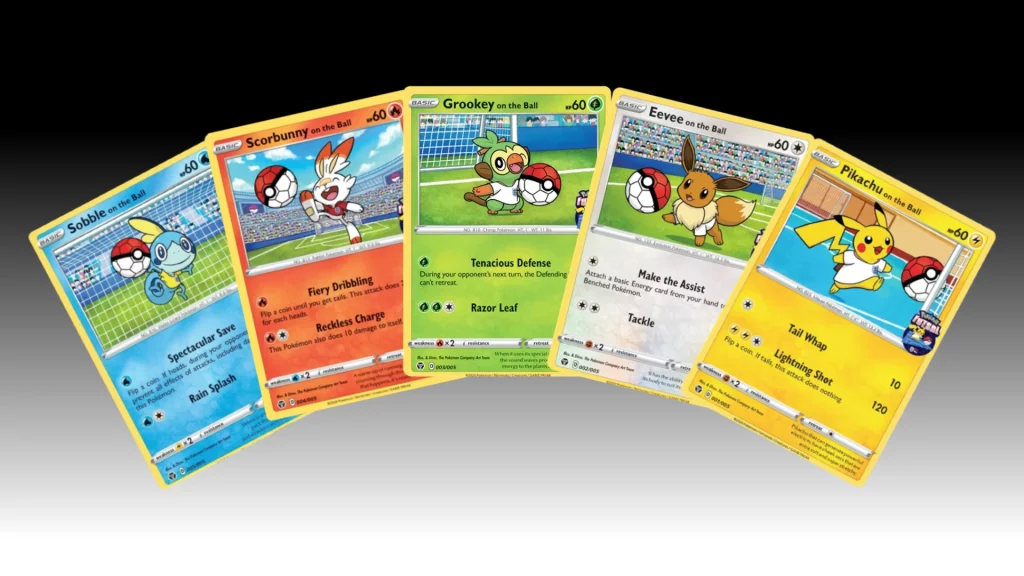 Futsal Promos Complete Set List
The pokemon Futsal complete set contains only 5 cards in total, all of which are football pokemon themed cards.
The cards are not part of Pokemon normal promo cards and they have their own set numbers and icons.
Below you can see the 5 pokemon futsal cards:
001/005 – Pikachu on the Ball
002/005 – Eevee on the Ball
003/005 – Grookey on the Ball
004/005 – Scorbunny on the Ball
005/005 – Sobble on the Ball
How to Get Pokemon Futsal
To get the pokemon football cards you either played one of the UK football pokemon tournaments, participated in Game UK pokemon events or bought them from the secondary market from previous owners.
In the button below i will redirect you to ebay to try and hunt for a good pokemon deal for the cards. Remember that pokemon cards shift like stocks and popularity, so with time the prices may go up or down.
Pokemon Futsal Promos Value
Due to the difficulty of getting pokemon Futsal cards, it will be hard to complete the set in the future and across the world.
These 5 cards are pretty exclusive to get, my personal opinion is that over time this mini pokemon set will rise to new levels of price value.
Each card on their own may be somewhat affordable but the Futsal pokemon complete set is very exclusive to own, therefore going to be expensive to complete.